Car Tint Shops Choose Stratiss. Here's Why.
Pay-Per-Click With Search Ads
You want to be on the fast-track to your revenue goals? We have developed a system designed for car window tint owners that can turn your website into a leads generating machine. 
We only provide services to one tint shop per city.
Secure your marketing position now and we'll help you climb the ranks and beat out your competitors.
Not Familiar With Google Ads?
Google Ads appear before the ranked searches, which gives you an advantage to be seen and heard.
Yes, it is possible to create ads on your own and  manage your campaign. But will your strategy work?
Our PPC Experts will create your campaign, manage your budget, and make you are getting the right leads. 
Not Convinced Yet?
Check Out Our Case Study. 
Business Type: Car Window Tint and Auto Styling  Location: San Diego, California
A small window tint shop is San Diego was in need of customers amidst the COVID-19 Pandemic. They were getting no calls and losing money each day because no one was visiting their shop.
Their goal was to attract more customers and generate leads using our custom-tailored PPC Strategy.
The main goal for the car window tint shop was to convert leads into paying customers. With responsive landing pages, our goal was to drive traffic to their website from organic and paid traffic. With Google Ads, we were able to find customers who were interested in repair work. Whether it be phone calls, or form submissions, their window tint shop became a leads generator.
Stratiss targets specific pain points in order to create a successful campaign.
We utilize tools and analytics to make sure that we are getting the right leads.
We provide simple reporting that is easy for clients to understand.
We manage all content and campaigns for you and can be on-call for any adjustments needed.
We Did Our Research
Created High Converting Ad Copy
Found the least competitive keywords
Targeted the right demographic
Checked the previous history of website
Made Easy To Navigate Landing Pages
Landing Pages with CTA (Call-To-Action)
Usability for desktop, tablets, and mobile
Added Tracking Implementation on the website for landing pages

 
Manage and Monitored
Bid Adjustments
Manage Ad Spend
Change Ad Copy and add high converting keywords
Fast-Forward June 2020
Here's the Results.
Our Budget? Less than $600.
How many people saw the ads?
10.8K
How many were interested and checked out the wesbite? 651 Leads

Pretty Great Right?
The Thing Is…
We're not interested in just getting you leads, we're interested in lead conversions.
ROAS (Return on Ad-Spend)
What does this mean for you?
Ad spend is the amount of money spent for running ads. This budget is allocated on a monthly basis. When we say, ROAS, we mean that we want our clients to get their money's worth when running ads and receive an even bigger return.
Though results may vary, our goal is at least 600% return on your ad spend. 
Let's get back to the case study.
How many leads actually made an effort to get in touch with our tint shop?
 

Forms:

55
 Phone Calls: 154

Qualified Leads from PPC? 118
Minimum Conversion Value? $17,500
ROAS? $16,922
What's the Catch?

There is none.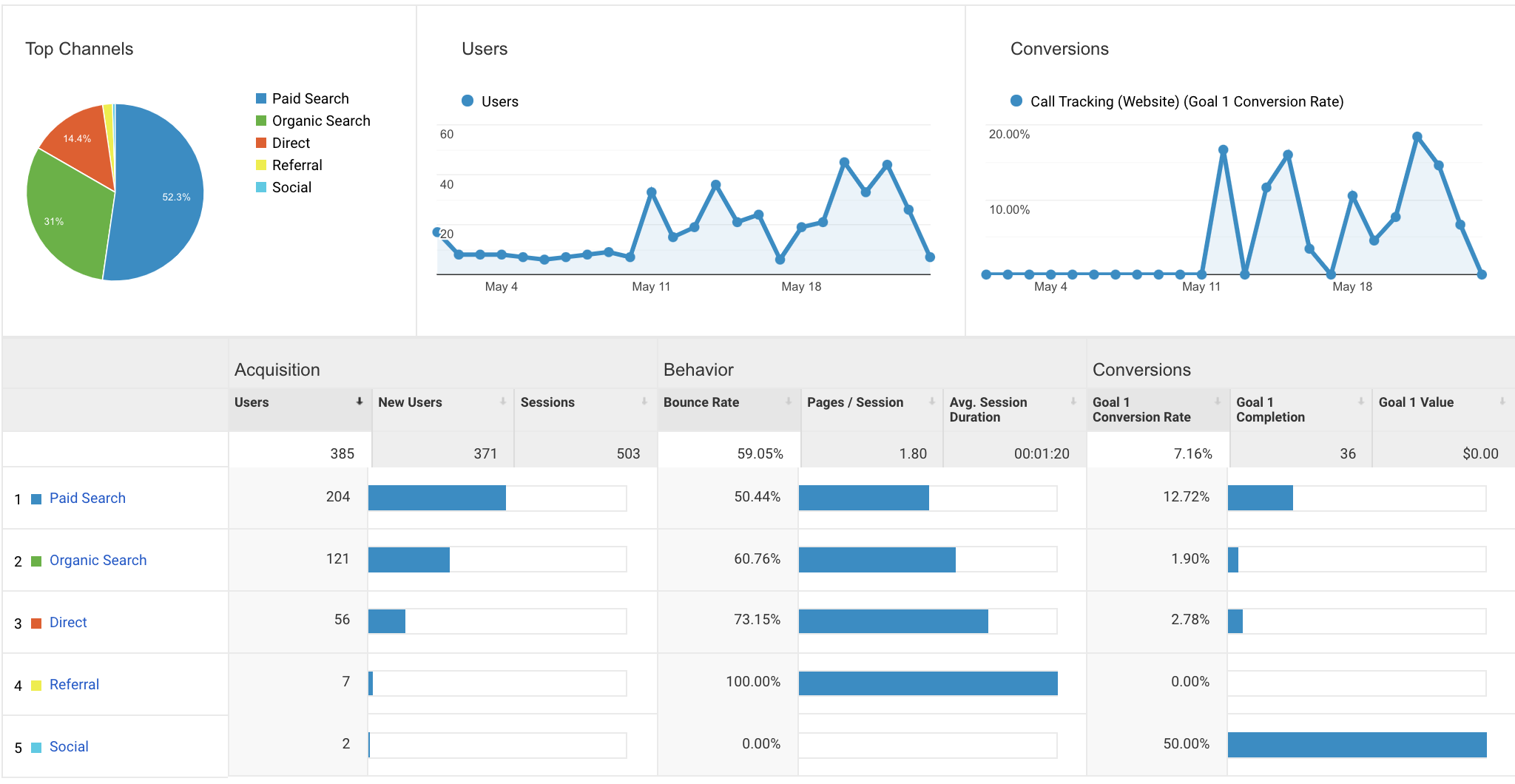 We Rely on Research, Data and Analytics.
We make sure that we are tracking the right stuff. From users, channels, devices used, keywords, phone calls, and contact form submissions, we try to utilize the proper tools to collect your data and report it to you in the simplest way possible. 
We just want to make sure that your business is getting the right lead and conversions.
We make things work out for you.
Although, you can create a Google Adwords account on your own, it is recommended to ave someone manage your account. Let the experts here at Stratiss manage your PPC Campaigns. Sometimes, businesses are not able to monitor their PPC accounts and they end up spending more than their allowed budget. That is something that we never want to happen.
With our PPC Management, our goal is to drive conversions and increase click- through rates so that you get your ROI (return on investment) and much more!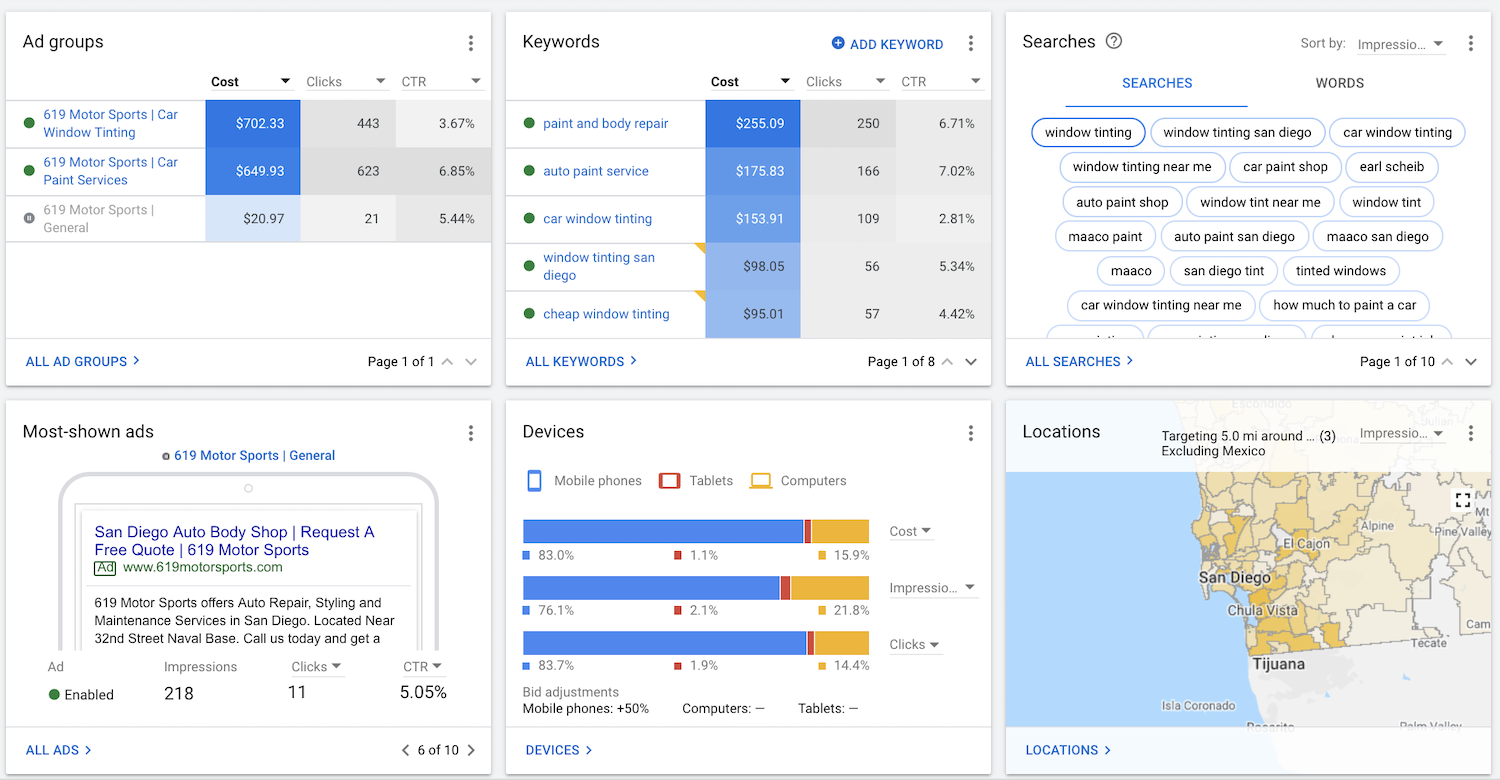 We understand that the COVID-19 pandemic has been tough on small businesses. 
In lieu of this pandemic, we are offering our services at a discounted rate specifically to car window tint shops.
Team up with Stratiss for the summer and let us help your business generate the revenue you deserve.
No strings attached full refund policy.
There's really no strings attached. If it doesn't work out and our data shows that we did not provide any lead conversions, we guarantee you a full refund + we'll send you check for $500.